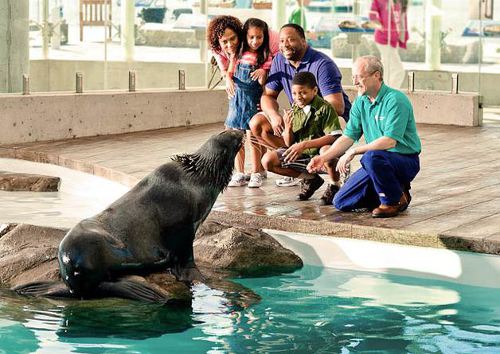 If you have a few hours kill between flights at the airport, hop on a water taxi and head on over to the New England Aquarium. Located only two miles from the airport, you easily can get there on a Water Shuttle. When you get there, you'll be close to the North End and The Quincy Market / Faneuil Hall Area.
The New England Aquarium opened it's doors in 1969 and has been a popular visiting spot with tourists and locals alike ever since. More than 1.3 million people visit the New England Aquarium each year. In the main aquarium building, you'll see the Giant Ocean Tank, which houses 135 species of fish. You'll also encounter Sea Turtles, Harbor Seals and giant sting rays. There is the Simons IMAX Theatre and the New England Aquarium Whale Watch, which is open only from April through November. And let's not forget New England's largest shark and ray touch tank and the infamous Penguin Colony.
Kemp's Ridley Sea Turtle
In 2013, the Aquarium completed a major renovation. The main building was completely renewed and restored. The Aquarium's centerpiece is now the spectacular, four-story Caribbean coral reef, with hundreds of tropical reef animals. The iconic Giant Ocean Tank underwent a transformation of it's own.  Today, each one of its 52 brand-new viewing windows look out on more animals and more coral formations than ever before.
The New England Aquarium combines education and entertainment to bring attention to the issues facing our planet's oceans. It focuses primarily on the environment and promotes the importance of protecting our planet through unique exhibits and education.



Visiting the Aquarium
There are many of things to see and do at the Aquarium. You can create your own tour. There are exhibits, trained educators and hands-on animal demonstrations every day. There are tours, programs and daily presentations and shows. We recommend that you view their daily schedules before visiting. But if you'd rather wait to see what's happening when you get there that's okay too. There's always something going on at this magical place.
New England Aquarium
Address: 1 Central Wharf, Boston, MA 02110

Phone:  617-973-5200

Online: www.neaq.org